eRACE 4 CARE: racing for charity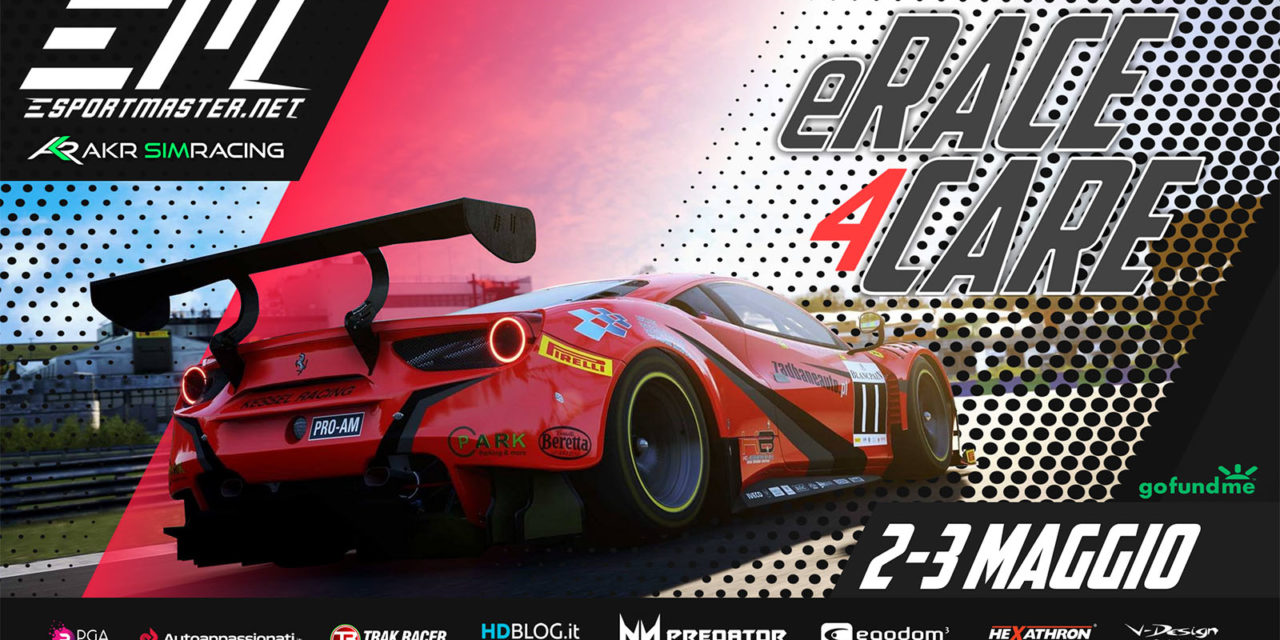 eSport Master, AKR Sim Racing Team and the Eurosport motorsport commentator team are pleased to present eRACE 4 CARE.
In a time that none of us had ever experienced before, where an invisible enemy has forced everyone to stay at home and all motorsport realities to stop any activity, many racing series pumped up their virtual series. The passion and the desire to fight have also pushed many drivers to compete in different online races organized during these weeks of lockdown.
As a big family, the motorsport world wants to help to overcome this emergency: from an idea by Nicola Villani (one of the Eurosport and Mediaset TV commentator) is born eRACE 4 CARE, a new challenge that will see real drivers against sim-drivers with an only one target, the charity crowfunding.
This project aims to raise funds for the fight against coronavirus (COVID-19) organizing an event with four virtual races that will see world-renowned professional drivers compete against established simdrivers, at the wheel of GT3 cars using Assetto Corsa Competizione, the official 2019 GT World Challenge simulator.
For those who are not as passionate as us, it is the most prestigious championship in the world for GT3 and it has become the reference series for Grand Touring cars.
In the next few days, drivers from other disciplines of Motorsport, racing fans and some influencers could be added to the official entry list of the event.
Driving the perfect virtual reproduction of Lamborghini Huracan Evo, Ferrari 488 GT3, Mercedes AMG GT3, McLaren 720s GT3, Porsche 911 GT3-R, Nissan GT-R Nismo GT3, Aston Martin V8 Vantage GT3, Audi R8 LMS Evo, Bentley Continental GT3, BMW M6 GT3 , Lexus RC F GT3 and Honda NSX GT3 Evo the partecipants will compete on four circuits that are very popular among fans: Monza, Barcelona, ​​Spa-Francorchamps and Nürburgring.
The format includes races of 60 minutes each, with mixed crews and mandatory pit stops.
The appointment is for Saturday 2 and Sunday 3 May in live streaming on the YouTube and Facebook channels of eSport Master, AKR Sim Racing Team and some partners who believed in this projects (like Cetilar, Predator, Egodom, HD Blog – HD Motori, Autoappassionati.it, Trak Racer Italia, Hexathron Racing Systems and PGA Vision).
The event will obviously commented live by the voices who all italian fans well know from Eurosport: Paolo Allievi, Daniele Galbiati, Marco Petrini, Fabio Magnani and Nicola Villani.
The fundraising campaign is already active through the GoFundMe platform: the amount will be totally used to purchase medical equipment that will be donated to the "Santi Antonio e Margherita" Civil Hospital in Tortona, temporarily converted by the Piedmont Region into Covid Hospital.
Registration for the event, for which a minimum donation of 10 Euros is required from each participant, will be open from 12 noon on Wednesday 22 April.
In the coming days we will reveal more details and some famous names that will be at the start in the race for solidarity. Stay tuned!