DRIVE THE DREAM – In pista reale con una vera Ferrari 488 Challenge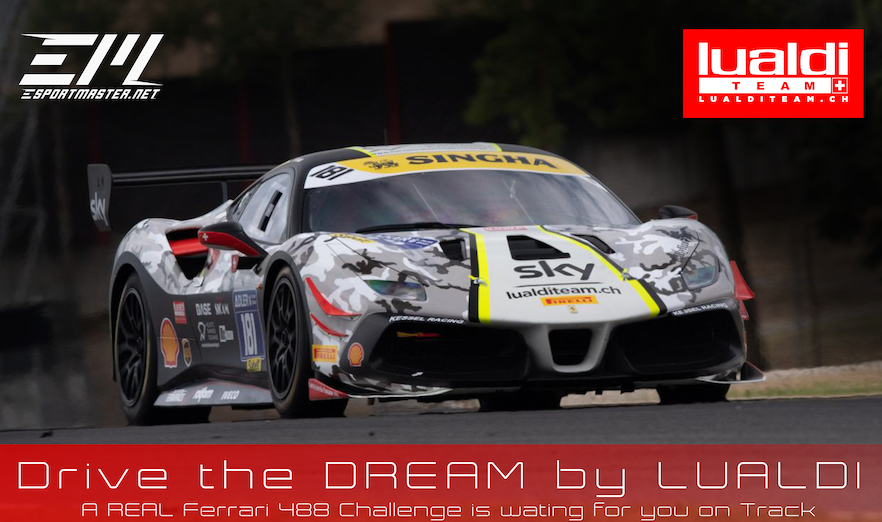 DRIVE THE DREAM – Cerchiamo piloti per guidare una vera Ferrari 488 Challenge in pista.
Un'esperienza unica, il sogno di ogni simdriver…. ecco il campionato che aspettavi.
Fai vedere il tuo talento per guidare in pista, una vera Ferrari 488 Challenge del Lualdi TEAM – Racing with Ferrari.
eSportMaster è lieta di presentare DRIVE THE DREAM!
In un periodo in cui il SimRacing sta crescendo ed occupando il posto che merita, dove i SIMDRIVER sono riconosciuti come veri atleti, molti campionati virtuali sono apparsi. Noi di EsportMaster, dopo il grandissimo successo di eRACE 4 CARE, che ha superato le 70.000 visualizzazioni, abbiamo avuto la fortuna e l'onore di conoscere dal vivo, in pista, il  Lualdi TEAM – Racing with Ferrari, proprietario dell'omonima scuderia, che disputa con i suoi piloti, il prestigioso European Ferrari 488 Challenge, con due due delle più belle ed iconiche auto, che Ferrari abbia mai pensato.
Dalla passione che lega sempre più il mondo VIRTUALE con il REALE, è nata l'idea di scoprire nuovi talenti e dare la possibilità ai migliori, di scendere finalmente in pista VERA con una VERA auto da corsa.
UNA FERRARI 488 CHALLENGE ti aspetta, per un'intera giornata, con a disposizione tutto il prestigioso Lualdi TEAM – Racing with Ferrari, nella pista di CREMONA, Nord Italia.
Utilizzando Assetto Corsa Competizione, il simulatore ufficiale Kunos del GT World Challenge, potrai dimostrare il tuo valore nel primo CAMPIONATO MONOMARCA FERRARI 488 GT3, su ACC.
Leggi il regolamento, ed iscriviti subito, in palio oltre alla giornata in pista, c'è l'abbigliamento sportivo-tecnico Ferrari- Lualdi e molti altri premi, che saranno annunciati presto dai nostri sponsor.
Il premio comprende tutto, dovrai solo arrivare in pista a CREMONA, Nord Italia, ed avrai a disposizione un vero team: l'ingegnere di pista, l'ingegnere di macchina, il Coach e tutta l'assistenza dal muretto dei box,  ti aiuteranno a spingere al massimo la Ferrari 488 Challenge.
Una grande festa, di divertimento e passione, ti aspetta!!! Non attendere oltre, iscriviti subito e qualificati.
Il format prevede 6 pre-qualifiche, a partire dal 14 Settembre, della durata di 1 settimana l'una.
I primi 15 di ogni pre-qualifica, saranno suddivisi nei 3 server di gara per le tre categorie PRO, PRO-AM e AM (leggi il regolamento, per i dettagli).
Le gare si terranno ogni domenica, a partire dal 6 Dicembre, e si disputerà su due Stint da 40 minuti l'uno, con Gara 1 e Gara 2 a griglia invertita, in diretta streaming sui canali YouTube, Facebook e Twitch di eSport Master e di alcuni partner che hanno creduto in questa iniziativa e saranno al nostro fianco (Predator, Egodom, HRX ed altri).
L'evento sarà ovviamente raccontato e commentato in diretta in Italiano ed in Inglese.
Stay tuned!
#drivethedream #Motorsport #RaceAtHome #restateacasa #distantimauniti