DRIVE THE DREAM – REAL TRACK WITH REAL FERRARI 488 Challenge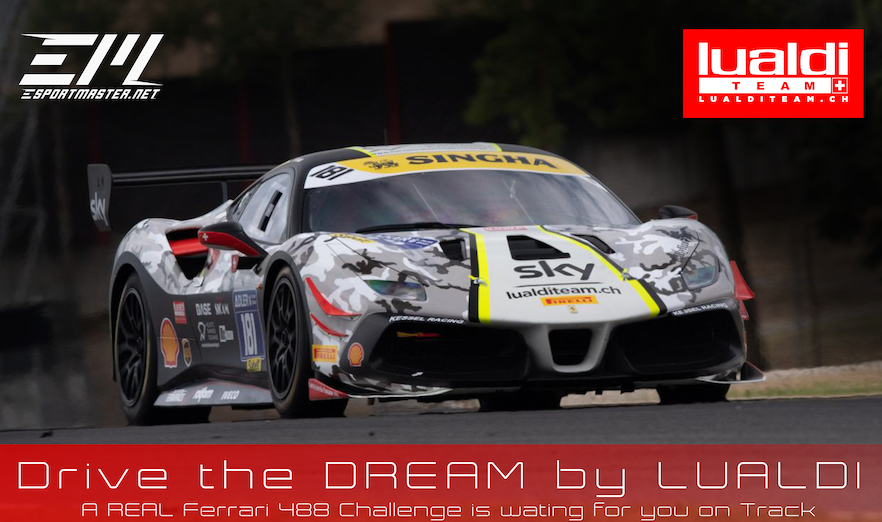 ​
We are looking for drivers to drive a
real Ferrari 488 Challenge on the real  track.
A unique experience, the dream that every simdriver has always wanted…. here's the championship you've been waiting for.
Show your talent and if you are the finalist, a real Ferrari 488 Challenge of the Lualdi TEAM – Racing with Ferrari, will wait for you on the track together with the whole team, to make you live unforgettable tests.
eSportMaster, is pleased to present DRIVE THE DREAM.
At a time when SimRacing is growing and occupying the place it deserves, where SIMDRIVERs are recognized as true athletes, many virtual leagues have appeared.
At EsportMaster, after the huge success of eRACE 4 CARE, which has exceeded 70,000 views, we had the luck and the honor to meet live, on the track, the Lualdi TEAM , owner of the eponymous team, which competes with its drivers, the prestigious European Ferrari 488 Challenge, with two of the most beautiful and iconic cars, that Ferrari has ever thought of.
From the passion that increasingly binds the two worlds, VIRTUAL and REAL, the idea was born to discover new talents and give the possible to the best, to finally get on the REAL TRACK with a REAL race car.
A FERRARI 488 CHALLENGE awaits you, for a full day on the track of CREMONA, Northern Italy.
Using the GT World Challenge's official Kunos simulator, you'll be able to prove your worth in the first SINGLE-BRAND FERRARI 488 GT3 CHALLENGE on ACC.
Read the rules, and sign up now, up for grabs in addition to the day on the track, there is the sports-technical clothing Ferrari- Lualdi and many other awards, which will be announced soon by our sponsors.
The prize includes everything, you just have to get to the track in of CREMONA, Northern Italy, and you will have a real team: the track engineer, the car engineer, the Coach and all the assistance from the pit wall, will help you push the Ferrari 488 Challenge to the maximum.
A great party, of fun and passion, awaits you!!! Don't wait any longer, sign up now, now and qualify.
The format includes 6 pre-qualifications, starting September 14, lasting 1 week a.m.
The first 15 of each pre-qualification will be divided into the 3 race servers for the three categories PRO, PRO-AM and AM (read the regulation, for details).
The races will be held every Saturday, starting October 31, and will be held on two 40-minute Stints each, with Race 1 and Race 2 on the reverse grid, live streamed on the YouTube, Facebook and Twitch channels of eSport Master, and some partners who believed in this initiative and will be by our side (Predator, Egodom, HRX ).
The event will of course be told and commented live in Italian and English.
Stay tuned!
#drivethedream #Motorsport #RaceAtHome #restateacasa #distantimauniti